Managing young talent at senior level is a challenge to which Peter Bosz has risen. Manager of Vitesse of Arnhem has used the Dutch Eredivisie side's professional relationship with Chelsea to seal temporary loan transfers for young players from the English Premier League champions, including promising teenage strikers Isaiah Brown and Dominic Solanke. Peter recently attended Leaders Sport Performance London summit at Emirates Stadium and during a break he spoke to Performance about instructing his young charges, immersing them in the culture at Vitesse and leading them from the sidelines. He also discussed the value of silence during the halftime break and the importance of transparent communication with the club's fan base when implementing broader organizational change.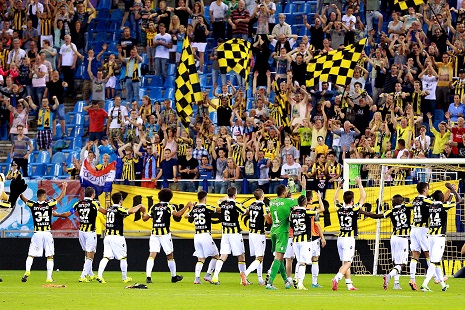 How does being an underdog affect your game preparations?
Not at all because we have a way of playing and that's key and it's only in the small details that we adapt to the opponent, whether we put pressure on their left or right side, depends on the opponent. But we have a way of playing and we practice it every day and I try to convince the players that this is the best way with our squad. Our philosophy is a desire to be dominant, we want to be decisive in our game and even though we have a lot of really young players I think that if you give them a certain way of playing then it's easier for them because they already know what to do.
So the system comes before the players?
First you have the philosophy, you find the players, then you make the system, in that order. If we have fast wingers then we will utilize that asset if it means playing differently. The players decide the system within the philosophy.
Is it important to have different personalities in the dressing room?
I think it's important but these days in Holland because before the players can develop themselves to a certain standard of leadership they are sold to clubs in foreign countries. At this moment with my team I work with five loanees from Chelsea, aged 18 to 20, plus numerous others in a similar age bracket. In my experience these younger players are more interested in their own game than the team. With older players. I'm always looking for three types of leaders: you have the leader on the pitch, on the field, everybody knows the guy who organizes everything on the field; then I'm looking for a leader outside the field and most of the time that's your captain, and he's the one organizing with the team manager whatever is needed, he'll come to me talking about things, that's the leader outside the field. And the third thing I'm looking for is the guy who makes the jokes in the dressing room. There's always one guy in the dressing room who is a bit crazy. All of the other players find their way with one of those three leaders. So it's my job to discover those three leaders and to help them work together with each other. If those three work together then everything in the dressing room is okay.
How important is the halftime team talk?
As a coach you always want to influence your players and there are different moments for it in the game. The best moment is obviously during half-time. My experience, and I got this from another coach, when we enter the dressing room I want everybody to be still; and most of the time there are a lot of emotions in the dressing room at the beginning because one player is angry at another player and one is disappointed that he didn't score or didn't get the ball. If I say something at that point then they won't listen to me. So what they do is they come into the dressing room, I ask them to get a drink, then I want everybody to be silent. If you have 10 or 12 minutes at half-time and you are quiet for three minutes then I can tell you that it's really a long time with nobody speaking. Then I am confident after those three minutes that when I start talking I have everybody's focus and attention. Then it's always the small details. I don't tell the players too much information because they can't handle it at halftime. It's with maybe one or two points that I address the players and that's it, those are the most important, because that's the moment you can change something.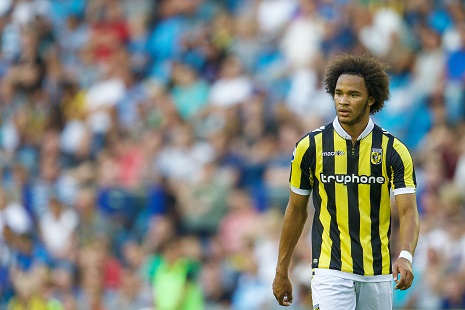 Do you see a relationship between a player's position on the field and their personality?
Absolutely. Most of the time strikers are the most adventurous players, midfield players most of the time are the most intelligent players, that's why I know that Bayern Munich Head Coach Pep Guardiola wants to work with a lot of midfielders in his team. He put midfielder Javier Mascherano in central defense at Barcelona those players are intelligent players. You want thinkers on the field and I want to work with intelligent players.
Does your number of loan players present a challenge to team spirit and chemistry?
No. Everybody is asking me this question in Holland because they believe that if you bring in a lot of loan players then they're just there for half a year and they go back and don't have any connection with the team and the club but it's not true. And that's what I like about this summit also: people talk about building relationships and that's basically what you do, also with your loan players. So you build relationships with your new players and make them feel at home and give them a good feeling. I don't have the feeling that they are here for one year, then they get out and that's it.
How do the expectations of the fans govern the strategy of the club?
I believe that if you have good communication and explain situations to them. As I said, we have to bring down our budget every year and explain it to the fans. We were the first club ever in Holland to have a foreign owner. I know in the UK that foreign ownership is normal but in Holland we don't. the club is from the fans, it's not from one owner, therefore it was strange that Vitesse sold their shares to a foreign owner and in the beginning the fans didn't know exactly what to expect and they were scared that in two or three years the owner would say 'I'm not interested any more' and leave the club broke. But instead of that they built a relationship with the fans. They didn't only buy new players but the owner put in place training facilities that in Holland are the best we have. On top of that the owner also built a new facility for the fans next to the stadium. When we had to sell our three most valuable players and we explained it to the fans that we needed to comply with financial fair play so that's what we did and in return the fans protect us in the media. If the media say this is not good what Vitesse is doing the fans say 'No that's not true. We're happy with the new players we're happy with the relationship with Chelsea'. If you communicate that well to the fans they will support you and protect you.