Bill Walsh's Standard of Performance was fundamental to the three Super Bowls he won in 10 years at the San Francisco 49ers. When he arrived at Candlestick Park in 1979 he transformed the NFL's worst franchise into Super Bowl champions inside three years as they became known as 'The Team of the '80s'. He was labelled 'the genius' in some quarters – a moniker he refuted – but nonetheless he is lauded as one of the finest sporting leaders of all time. His counsel was sought by leaders in the business sector and he garnered praise from the Harvard Business Review for his organizational brilliance.
---
While the 49ers' turnaround was remarkable it was rooted in Bill's rigid adherence to his Standard of Performance. He describes it in his seminal book on sporting leadership The Score Takes Care of Itself: My Philosophy of Leadership: "It was a way of doing things, a leadership philosophy, that has as much to do with core values, principles, and ideals, as with blocking, tackling, and passing; more to do with the mental than the physical.
"It began with this specific leadership assertion: Regardless of your specific job, it is vital to our team that you do that job at the highest possible level in all its various aspects, both mental and physical (i.e., good talent with bad attitude equals bad talent)."
San Francisco's headquarters were substandard, as was the training facility. Everything needed to change from the ground up and started with an overhaul of the organization's behavioral norms and the creation of an environment of excellence to give the franchise the structure and direction it was lacking.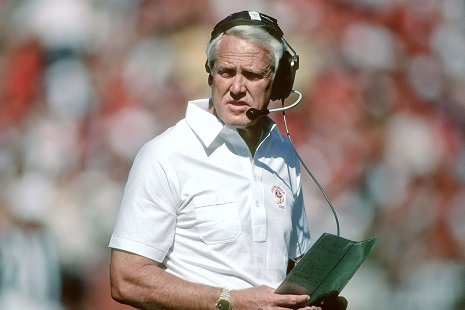 Setting Behavioral Norms
Behavioral norms in a business setting enable a leader to make their expectations explicit to their employees both in terms of their work and the manner in which they should conduct themselves. Bill said: "I approached building the 49ers organization with an agenda that didn't include a timetable for a championship or even a winning season. Instead I arrived with an urgent timetable for installing an agenda of specific norms – actions and attitudes – that applied to every single person on our payroll."
Bill demanded a strong work ethic geared toward continuous improvement, teaching and learning, while demonstrating respect for colleagues and conducting oneself in a dignified manner. His carefully selected rules were clearly related to the business of playing professional football and so he was able to manage his staff and roster by holding them accountable to those behavioral norms.
Creating an Environment of Excellence
With a mindset for excellence created Bill was able to devise his strategy for achieving that excellence: his Standard of Performance. It provided the detailed benchmarking that enabled him and his staff to see what excellence looks like.
He openly admits that he would teach each 49ers employee what to do and how to think. On the roster players were instructed to dress smartly at practice, to watch their language, and to treat fans with respect. He also forbade the conventional hazing of rookies and walk-ons. "When they arrived I informed them, 'You are a San Francisco 49er. As long as you're here, you will be treated like one'." This extended to scouts, who were isolated figures at most franchises. "They came to feel like real members of our organization, rather than pizza delivery boys who showed up when called with hot tips about players."
He also applied the Standard to office personnel, parking lot attendants, box office staff, and even gave receptionists instructions on how to answer the phone. "Much of this may seem trivial to you, but it adds up and changes the environment.
"All of this increasingly demonstrated to others and to ourselves that we were on top of things, neither sloppy nor inattentive, and contributed to a greatly heightened sense of 'this is who we are'."
With his clearly defined notions of excellence Bill was setting wheels in motion at San Francisco. Players would treat their helmets with reverence, placing them on shelves inside their locker rather than just tossing them in.
The ground staff ensured that Candlestick Park became one of the best natural surface playing fields in the NFL despite the unfavorable conditions created by its proximity to San Francisco Bay, which produced a soggy subsoil and mushy topsoil, and was subject to a rainy winter season.
This enforced code of ethics gradually halted the decline that had afflicted San Francisco and transformed the atmosphere at the franchise before a winning season followed. It encouraged positive thinking and the 49ers badge came to signify an organization with pride and high behavioral expectations.
Bill cited the example of receiver Jerry Rice who would admire his appearance in a full-length mirror when he got dressed before games. "Jerry Rice was a professional and he looked like a professional. And it helped him in someway to think and perform like a professional."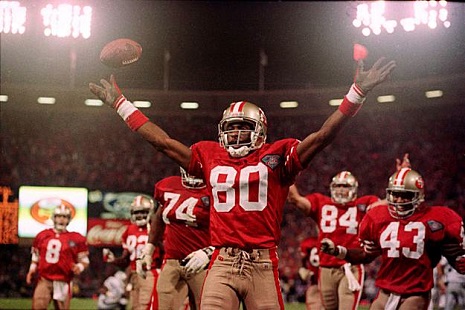 Eitan Sharir of HR Voice says: "When you build a corporate culture of excellence, you create organizational capacity and a structure that empowers, focuses and engages employees." Bill valued what he termed 'functional intelligence' in his staff and by imbuing them with a sense of ownership he was giving them personal discretion to solve problems and his emphasis on connectedness provide support in problem-solving throughout the franchise. He said: "I was insisting that all employees not only raise their level of 'play' but dramatically lift the level of their thinking."
His approach worked because nothing he asked was unreasonable and the vision he sold was aspirational. He created a strong collective mindset and alignment around performance goals and taught his organization to act like winners before they were winners. "The 49ers' self-perception was improving; individuals began acting and thinking in a way that reflected pride and professionalism."
The Prime Directive Was Not Victory
Bill endured two losing seasons prior to his first Super Bowl but had faith that the score would take care of itself if the culture and environment was put in place to facilitate improved performance on the field. "We were immersed in building an inventory of skills, both attitudinal and physical, that would lead to improved execution," he said. He employed people in tune with his philosophy and fired those who impeded the 49ers' development.
His priority was connection and extension and he taught that tenet to his employees. When Rice caught a touchdown pass he did not act alone: blockers stopped the pass rushers, other receivers drew defenders away with decoy runs. Beyond the field coaching staff, trainers, the team doctor, nutritionists and all other staff were connected to and were an extension of the players. "Everybody was connected, each of us an extension of the others, each of us with ownership in our organization." This sense of connection and extension also cultivated his staff's willingness to sacrifice for the team. "It has a transformative effect. Bonding within the organization takes place as one individual and then another steps up and raises his or her level of commitment, sacrifice, and performance."
Business as Usual
Bill believed that a person's ability to think under pressure and anxiety, such as during a crucial moment of a big game, was limited. In those high-intensity moments a player could only prevail if they were able to call upon a subconscious level of excellence and proficiency that had long-since been acquired. His Standard of Performance enabled his roster to master their craft and so each and every match was approached in the same manner and players could call upon their skillsets in the same way. There was no need to try harder or panic.
"By focusing strictly on my Standard of Performance, the 49ers were able to play the bigger games very well because it was basically business as usual – no 'try harder' mentality was used. In fact, I believed it would be counterproductive." And so his roster handled the intense media glare and expectation that came from reaching the Super Bowl.
These days Bill's Standard of Performance is viewed as a 'how to' manual to setting behavioral norms and creating an environment of excellence. It also emphasized the importance of changing the way a sporting organization functioned before placing a focus on results. A leader with the will and vision can have a transformative effect if that vision speaks to people's aspirations and self-perception.